Ref:
Date:
Location:
Photographer:
Ref:
Date:
Location:
Photographer:
Alison Fennell
My name is Alison Fennell. I am a fine artist and watercolour instructor working in Ynysybwl.
I learned the basics of watercolour my 20's and continued to paint and experiment for the next 20 years always hoping I could be a full time artist one day.
I have worked in France in tourism and in Spain in language education. I taught in Wales as a Primary School teacher and also spent 9 years at The National Museum of Wales until 2002.
Following major neurosurgery in 2008 to remove a rare ear tumour I took 4 years to recover to good health again. I discovered the online art site called Etsy and began slowly selling work during my recovery. Thanks to the internet I launched my online gallery and blog
Eastwitching
in March 2010.
Animals are my main source of inspiration. As an animal lover I regularly donate prints to many rescues and charities and have created art for Animals Asia to fund their Moon Bear Rescue programme.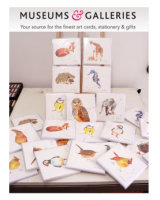 Over the last 4 years my work has featured in many UK and USA home decor magazines such as Good Housekeeping, Coast, LandLove, and been licensed by several UK household names such as John Lewis, Dunelm and Waitrose.
In 2014 The Museums & Galleries Collection launched a range of 12 of my animal designs as cards called "Alison's Ark" available in WH Smiths. and I have been a contributing watercolour tutor writing beginner tutorials in watercolour for Leisure Painter Magazine UK since 2015.
My next article will be published in the October issue, A watercolour fox which will be out on 6th Sept.
In 2017 my work got through 2 juries to be accepted at the Mall Galleries in London. I was accepted to the 156th Annual Exhibition of the Society of Women Artists.
You can view more of my work on my website - www.eastwitching.etsy.com
LEARN WATERCOLOUR
I am a teacher at heart and I naturally want to pass on what I know and am delighted to introduce my newest venture -
The Pottering Artist academy
where students will enjoy guided modules to get you confident and capable in basic watercolour painting.
To complement this online course I have also published a
monthly magazine
which is available either in an online or paper format, exploring the gentle forays into drawing and painting and life.
More information and updates are available from my FaceBook Page
You can subscribe to my Youtube Watercolour channel to view free art tuition videos – just search "Alison Fennell Youtube"
Please call 07415 801 844 or email eastwitching@hotmail.com for information and to receive my current watercolour programme.