Ref:
Date:
Location:
Photographer:
Ref:
Date:
Location:
Photographer:
Demonstration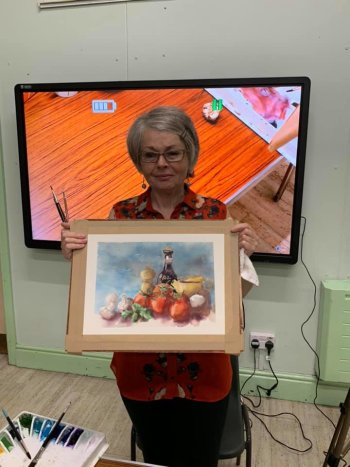 14/04/20
We are delighted to welcome Alison for another demonstration for us. Her Demonstrations are very popular and will commence at 7:30 pm
Alison Fennell is an experienced freelance watercolour Artist painting, landscapes, natural animals and fresh florals. She is a clear and patient tutor and hosts regular watercolour classes and workshops.
Her work has been published by Dunelm, John Lewis and the Museums & Galleries Collection and Alison has many instructional videos available on
You Tube
Contact details: eastwitching@hotmail.com
Mobile 07415801844
Demonstration will start at 7:30pm
Christmas Social
26/11/19
General Notifications
Remember we meet every First and Last Tuesday of the month, so occasionally it will mean a 3 week break.
Latest News
Did you know we have a Facebook Page?
Visit our page to see forthcoming dates, events and News. Why not pop along and give us a big 'Thumbs UP'
Caerphilly Art Society Facebook Page