Ref:
Date:
Location:
Photographer:
Ref:
Date:
Location:
Photographer:
Cancelled.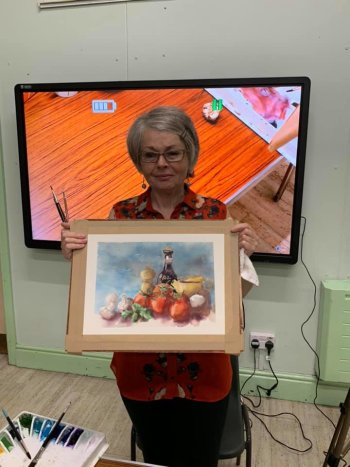 14/04/20
We will be cancelling this demonstration and hope to welcome Alison back when all has settled down again. Stay Safe all.
We are delighted to welcome Alison for another demonstration for us. Her Demonstrations are very popular and will commence at 7:30 pm
Alison Fennell is an experienced freelance watercolour Artist painting, landscapes, natural animals and fresh florals. She is a clear and patient tutor and hosts regular watercolour classes and workshops.
Her work has been published by Dunelm, John Lewis and the Museums & Galleries Collection and Alison has many instructional videos available on
You Tube
Contact details: eastwitching@hotmail.com
Mobile 07415801844
Demonstration will start at 7:30pm
Christmas Social
26/11/19
General Notifications
Remember we meet every First and Last Tuesday of the month, so occasionally it will mean a 3 week break.
Latest News
Did you know we have a Facebook Page?
Visit our page to see forthcoming dates, events and News. Why not pop along and give us a big 'Thumbs UP'
Caerphilly Art Society Facebook Page